PRESS RELEASE: Drawings from Helmand, Kabul and Panjshir
Exhibition of work by the award-winning reportage illustrator George Butler, in collaboration with international humanitarian organisation EMERGENCY.

Number 11 Dray Walk, The Old Truman Brewery, London – 15 to 23 July.

Private View: Tuesday 18 July, 6pm to 8pm.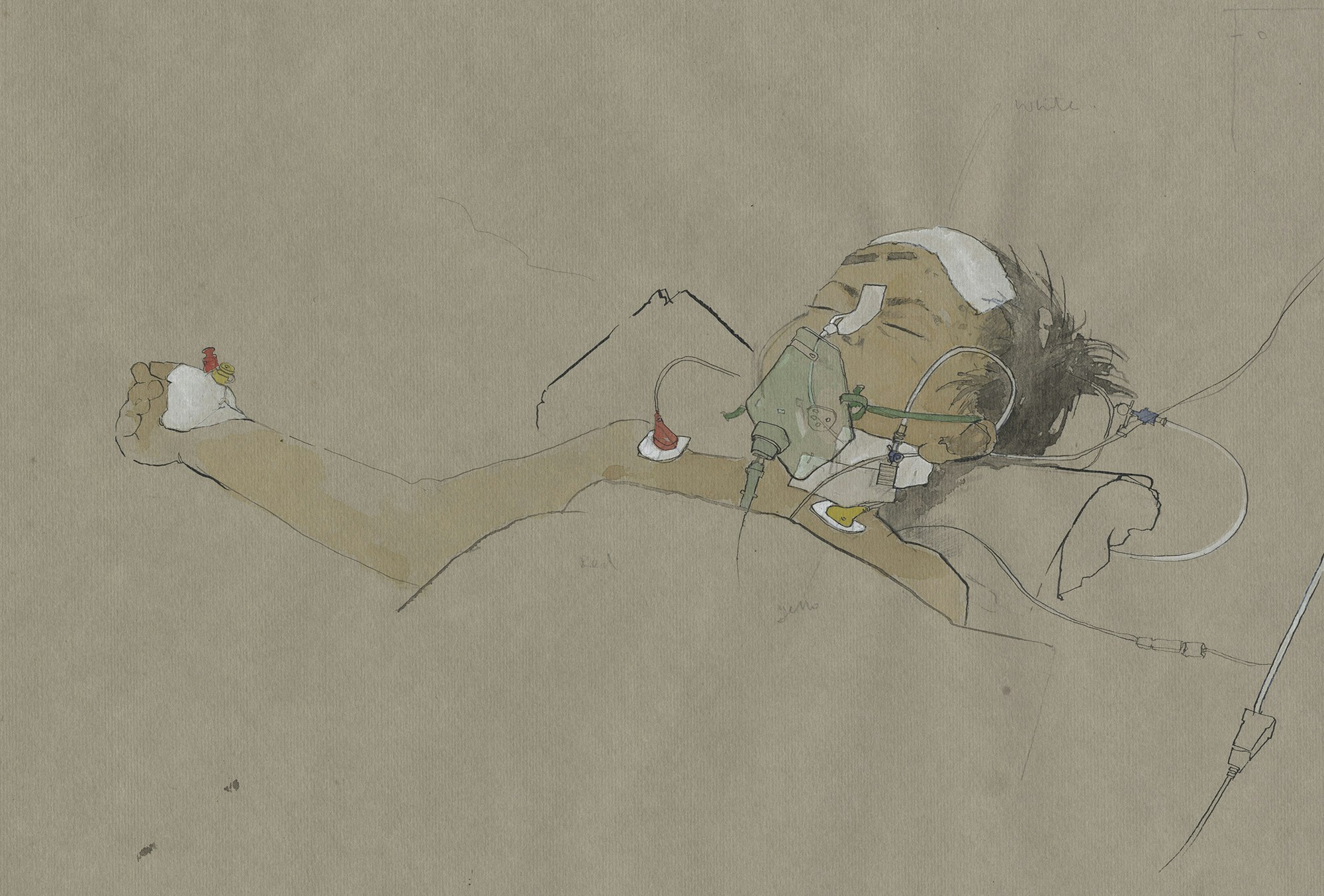 One year on from the tumultuous, tragic events of August 2021, and the fall of Afghanistan to the Taliban, the award-winning reportage artist George Butler travelled to hospitals and clinics in Helmand, Kabul and Panjshir run by the international organisation EMERGENCY to draw their patients and staff.
These drawings by George Butler of hospital wards and their patients are an immediate and moving visual record of the on-going situation in Afghanistan. The scenes are a barometer of the difficulties faced by Afghan society one year into Taliban rule and twenty years after US/UK intervention. The injuries included stabbings, trauma surgery, car crashes, IEDs, domestic violence and family feuds, as well as more positive outcomes of babies being born and people receiving life-saving surgery and care.
Through the medium of drawing, Butler was able to capture settings where cameras aren't allowed, including access to women's and paediatrics wards, and the maternity caesarean-section unit at the bustling Anabah Maternity Centre - staffed entirely by women.
He witnessed a man dead on arrival from a suicide bomb, an all-too-common scene. He drew three-year-old Malalai, admitted to EMERGENCY's Surgical Centre in Lashkar-Gah after a road traffic accident. She was suffering from head trauma. George Butler depicted her recovering in the intensive care unit from which she was eventually discharged and recovered.

Butler comments, "I felt immediately connected to the extraordinary work which is being done within these wards, and for these patients. The quality of care seemed out of place from the scenes we see on our front pages; queues of people outside First Aid Posts, full OT lists, full beds. Double and triple shifts. I was welcomed by EMERGENCY into their work in Afghanistan, immersing myself within their medical projects, which are dealing with the aftermath of a 40-year war."
This exhibition focuses on the people of Afghanistan and the EMERGENCY medics working around the clock to provide free, high-quality care to anyone in need. From operating theatres treating injuries from explosives, embodying the legacy of conflict, to birthing units delivering a new generation, George Butler's drawings allow the viewer a glimpse of life in Afghanistan, in settings where life and death hang by a thread.